What this month's newsletter covers: 
Our local Corazón members volunteered for Corazón's 

first local project since the start of the pandemic

. Read about their experience in the May Program Highlight.

Meet Luis

, a Corazón scholarship student, in May's Community Member Highlight. 

Read our note on a 

Possible Return to Construction in July
We're learning about the

 

history of papel picado or Mexican paper art

 in this month's ¡Corazón Classroom!
 April Highlights 
Program Highlight
First Local Project Back 
Image: Taurino and our local volunteers for the Celine Miller Build.
Our Construction Manager Taurino, along with a small group of local volunteers, constructed a home for our community member Ruth on the weekend of April 17th.
The Celine Miller Build would be Corazón's first build back in which we implement our COVID-19 Safety Protocols for volunteer groups. Our hope is to share Corazón's COVID-19 Safety Protocols with our U.S. volunteers in July. 
Our staff in Mexico ensured:
That there were multiple workstations for painting, nailing, and sawing to follow COVID-19 safe distance regulations 

a sanitation station was in place to ensure a safe and hygienic build environment
Our staff also helped designate groups so that everyone could maintain a safe distance from each other throughout the build day. 
-------------------------
Community Member Highlight
Meet Luis 
Meet Luis! Luis is a Corazón scholarship student and a sophomore in high school. Luis enjoys participating in Corazón because of our annual summer camp. Luis also enjoys participating in builds because he gets to make new friends while volunteering with others. 
Your donations help students like Luis participate in enriching learning experiences that create space for growth and new friendships.  
Interested in donating to Corazón Scholarships? 
---
Latest News 
Possible Return to Construction: July
In our last newsletter we shared about the year long pause on building due to the pandemic. We want to share a new update as we are excited and ready to begin building with our families. We miss all of you, so, start gathering the supplies and tools you would bring to a Saturday build! 
Our Construction Committee will be meeting in May to discuss a return to building in Mexico. Our decision will be based not only on the situation in the US and the comfort level of our volunteers,  but also on the situation in Mexico and their comfort level.  Our External Committee is reaching out to sponsor groups to get feedback on returning to Construction and inquiring how we can ensure they feel safe throughout a build. 
Like every organization navigating the pandemic, Corazon will require new guidelines to follow. As mentioned above, we have implemented COVID-19 protocols on site, including: masks, gloves, hand sanitizer, hand washing stations, maintaining safe distances, and taking temperatures.  The safety of our volunteers and communities is our highest priority. Therefore, the changes on what a build day may look will be different, but our purpose and mission remain. 
We are currently gathering our COVID-19 resources together and will notify you when we have this information ready for you on our website.  We do not have a start date, but construction could begin as early as July.  We ask for your continued patience and flexibility. As you know the current situation is fluid and can change from one week to the next. Please let us know if you have any questions.
---
¡Corazón Classroom!
The History of Mexican Paper Art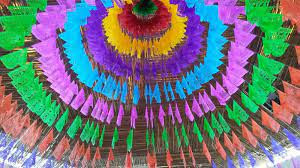 Papel picado is among the most well known paper art that exists around the globe. But what is the history behind this art form?
Papel picado during a Dia de Los Muertos celebration.
Prior to the colonization of Mexico, the Aztecs would create papel picado using fig and mulberry tree bark. Called 'Amatl', this paper was rough but worked well for papel picado. This form of papel picado was used by the Aztecs to decorate temples and religious gatherings/festivals (Johnson, 2016). 
Amatl, Aztec paper made from mulberry and fig tree bark.
Modern day papel picado is now made using tissue paper, and while it is largely manufactured due to demand, there are artists who still hand make papel picado as a form of art today. Catalina Delgado-Trunk, an artist who works with papel picado, creates it to reinterpret folklore and asks "Where do we come from, what are we doing here, and where are we going?" with her work (Delgado, 2020).
Catalina Delgado-Trunk (Portrait)
The following images are two examples of Delgado-Trunk's papel picado art.
Reina de la Noche - Catalina Delgado-Trunk
Tigrillos - Catalina Delgado-Trunk
To view more of Catalina Delgado-Trunk's work please explore her portfolio here
To watch a video of Catalina explaining the folklore behind her artwork please watch here
---
We hope you have a happy and safe May. 
-Team Corazón
Follow us on social media!
Do you like this post?