What this month's newsletter covers:
Students from Cumbres are volunteering in their community by initiating new garden projects and cleanups. Read more in our program highlight.

This month we recognize Kenia for her effort in leading workshops and her enthusiasm towards volunteering. Read more about her experience in our Community Member Highlight.

Learn about our Scholarship Program, updates on social media, and more in our Latest News section. 

We're learning about traditional markets in this month's ¡Corazón Classroom!
Update
Corazón Construction: Our upcoming build will be in honor of Dat Hoang, an honorable and hardworking lead builder at Corazón. Dat's build may be restricted, but we invite you to join us through live updates via social media. More details to come.
We also have the Chapman build in August and the Boris Family & Friends build in September. Please visit our website to sign up if you are a part of these build groups! 
Septic Tank Project: Ana and Taurino (members of our staff in Mexico) along with local volunteers, are installing septic tanks for various families within our communities. They'll continue installing septic tanks throughout the month of July. 
2021 Summer Camp: Summer Camp is about to start! Over 100 students will be joining our virtual summer camp this season. They'll be talking about internet safety, mental health, learn different crafts, and more through various workshops this summer. Students will also be provided with healthy meals throughout the duration of camp.
To donate to scholarships and programs that support the education of Corazón students please visit our website.
---
Program and Community Member Highlight 
Program Highlight
Corazón students and their community garden - Cumbres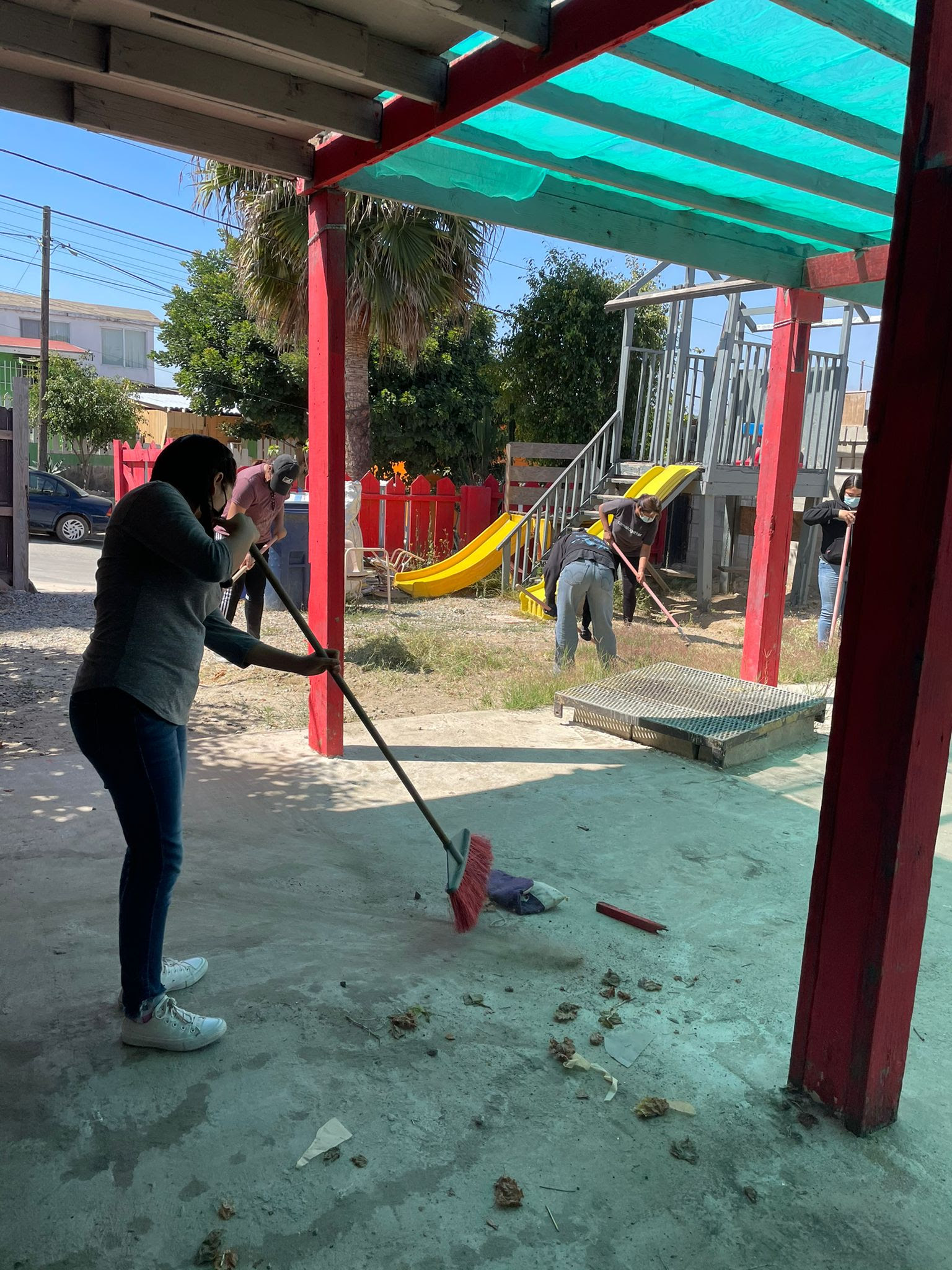 Students from Cumbres held a garden cleanup this June and started a new garden project in the coming month! The students pulled weeds and cleaned the entire center, including their garden patio, outdoor chairs and tables, and the kitchen. Their efforts will help clear space for their new garden project and a future bridge project at the community center. 
--------
Community Member Highlight
This month we recognize Kenia for her enthusiasm in conducting computer class workshops for women in our communities. As a computer class leader, Kenia led workshops that helped 11 community members learn how to use Google emails and Excel. Kenia is currently volunteering in our upcoming 2021 Summer Camp, helping plan virtual workshops for students in our communities. Kenia is a Corazón Scholarship student since September 2020. Her enthusiastic personality and hardworking spirit are why we're honored to have Kenia as a Corazón Scholarship recipient.
---
Latest News 
Spring Plea 2021
Students who participated in our recent community survey shared that loss in the family, unemployment, and financial stress are just some of the new challenges COVID-19 has created to make education out of reach for students in our communities.
To help relieve some of their stress, Corazón is working hard to raise funds that will help Corazón scholarship students during this difficult time. But we need your help to reach our goal.
Please consider donating to our education fund today.
Your donation will help students reach their academic goals. Thank you for your support.
--------
Social Media 
We're on Tiktok, Linkedin and more! 
We opened our Tiktok account last month! Follow us to watch house build progress videos, messages from our staff and volunteers in Mexico, and updates for future Corazón events. 
Note: Tiktok link works best on a mobile device.
Looking to make more connections on Linkedin? Build your profile by connecting with Corazón, Inc.! We're also hiring for our Operations Specialist. More information below. 
---
¡Corazón Classroom!
Traditional Markets in Mexico
Tianguis 
Community members from Cañon Carretas shared that a majority of their income had come from being merchants in their area (Corazón, 2021). Therefore, we wanted to talk about one type of traditional Mexican market called tianguis in this month's ¡Corazón Classroom!
Tianguis comes from the Nahuatl word tiyānquiztli, meaning open-air market. (Molina, 2012). Tianguis existed in Mesoamerica before colonization and were places to trade for cacao beans, peaches, figs, metals, and other foods and services. Tianguis operated in a specific manner - with designated officials checking on the quality of a vendor's goods and three administrators present to help settle any disputes that could have arisen during an exchange (Barnett, 2015). Attempts at making fixed and more formal markets were made. And while supermarkets make major profits in Mexico, tianguis and other outdoor-type markets continue to be popular because of their social atmosphere and because they are vital to the livelihood of merchants.
Learn about tianguis, produce, and indoor markets on a tour of Xochimilco Market with historian Ruth Alegria: https://youtu.be/eO3meuvxMxE 
Hear from merchants themselves - the social connections made at markets: https://youtu.be/TVPki-DMFmk 
---
Thank you for taking the time to read our monthly newsletters. We hope you have a happy and safe July. -Team Corazón
Donate to Corazón Scholarships Today!
Follow us on social media! 
Do you like this post?