What this month's newsletter covers:
Update:

 

What is the status of volunteers' return to Mexico? 
Take a look at a sanitization station

 

and our current COVID-19 protocols for volunteers.
Community Member Highlight: Local volunteers
Behind rising lumber costs: Learn about what is contributing to an increase in lumber costs in 2021.
Our Spring 2021 Plea is at 70% - Almost there!

 

Find out how you can help us reach our goal! 
We're learning about Baile Folklorico

 

de Mexico,

 

Mexican folk dance, in this month's, ¡Corazón Classroom! 
We're Hiring!

 

Apply for our Operations Specialist position by June 30th.
Update
California may be opening on June 15, but there is still no open date for Mexico.  We recently completed local projects with the help of 2 Blue Shirts, Doug and Jean Knudson.  We will continue with another two local projects in June. With each project, we get closer to a smoother and safer experience for everyone involved.  
Our next step is to have a Blue Shirt (invitation-only) build in memory of our beloved Lead Builder, Dat Hoang, who passed away earlier this year. Blue Shirts will be making adjustments based on limited volunteers and social distancing. 
We are opening our calendar up for all builds beginning August 1. If you are interested in sponsoring a build, click here.  Please note: we are limiting the current number of volunteers per build to 20 at this time. Depending on the situation in Mexico, we may need to postpone or change your project. We will do our best to keep you up to date.  
If you have any questions, please email us at [email protected].
---
Program and Community Member Highlight 
Program Highlight
We're hoping to test our first construction project with COVID-19 protocols next month! Local volunteers in Mexico have been doing a great job at following our COVID-19 protocols. Sanitization stations (such as the one pictured above) are in use throughout a build day. We'll be sharing more about our protocols and what to expect during a build day. 
In the meantime, read our current COVID-19 protocols here: 
Doug and Jean Knudson recently visited our communities to help local volunteers complete a room addition and roof repairs. Everyone wore masks and followed safety protocols. We're excited to open our calendar for more builds in August!
Community Member Highlight
We want to recognize our local volunteers for participating in projects while following COVID-19 restrictions. Thanks to them our communities are still moving. Thank you!
---
Latest News 
Rising Lumber Costs 
A rise in lumber costs is affecting construction in 2021. Demand for lumber grew as the COVID-19 pandemic forced sawmills to stop production temporarily (NPR, 2021). As shoppers became more interested in DIY projects and home improvement, and as construction picks back up again, sawmills are finding it difficult to meet demand because supply is limited (NPR, 2021).  
The rise in lumber prices is affecting Corazón programs. We expect housing expenses to increase between $2,000- $5,000. 
The rising prices will force us to increase our prices in 2022. Our Construction Committee is tasked with researching options for lumber suppliers. We hope to keep an increase to a minimum, but we ask for your patience and understanding as we move through this challenge together.
How can Corazón donors help our programs?
↓ Read about our Spring 2021 Plea. ↓ 
--------------
Spring 2021 Plea Goals
Our Spring 2021 Plea is already underway! We're currently at $23,000 of our $33,140 goal. Help us reach our goal by donating today! Your donation will help fund the following: 
Corazón Youth - educational scholarships for students 
Corazón Construction - meet costs for upcoming home builds that will help Corazón families
Thank you for considering donating to Corazón.
---
¡Corazón Classroom!
Baile Folklorico | Mexican Folk Dance 
Our March 2021 newsletter discussed Mexican cuisine and how regional cuisine presents Mexico's ethnic diversity. This month ¡Corazón Classroom! will be discussing how baile folklorico, Mexican folk dance, is another example of Mexico's ethnic diversity. 
Before the colonization of the Americas, the Aztec people practiced two dances: 1) for the common people and 2) the elite. These dances were usually performed for agricultural purposes and to bring people together.  However, parts of baile folklorico suffered from modification due to the efforts of colonizers to eliminate Mexico's cultural dances (Cantú, 2007). Despite efforts to eliminate baile folklorico, the cultural practice continues to prosper in Mexico and for Mexicans worldwide, keeping the tradition very much alive. Today's baile folklorico holds some European and African influences. 
Baile folklorico includes different dance styles and dress that tell folklore from different regions in Mexico. Below are just some examples of baile folklorico from Mexico: 

Jarabe dance - National dance of Mexico
Photo by Daniel Lloyd Blunk-Fernández on Unsplash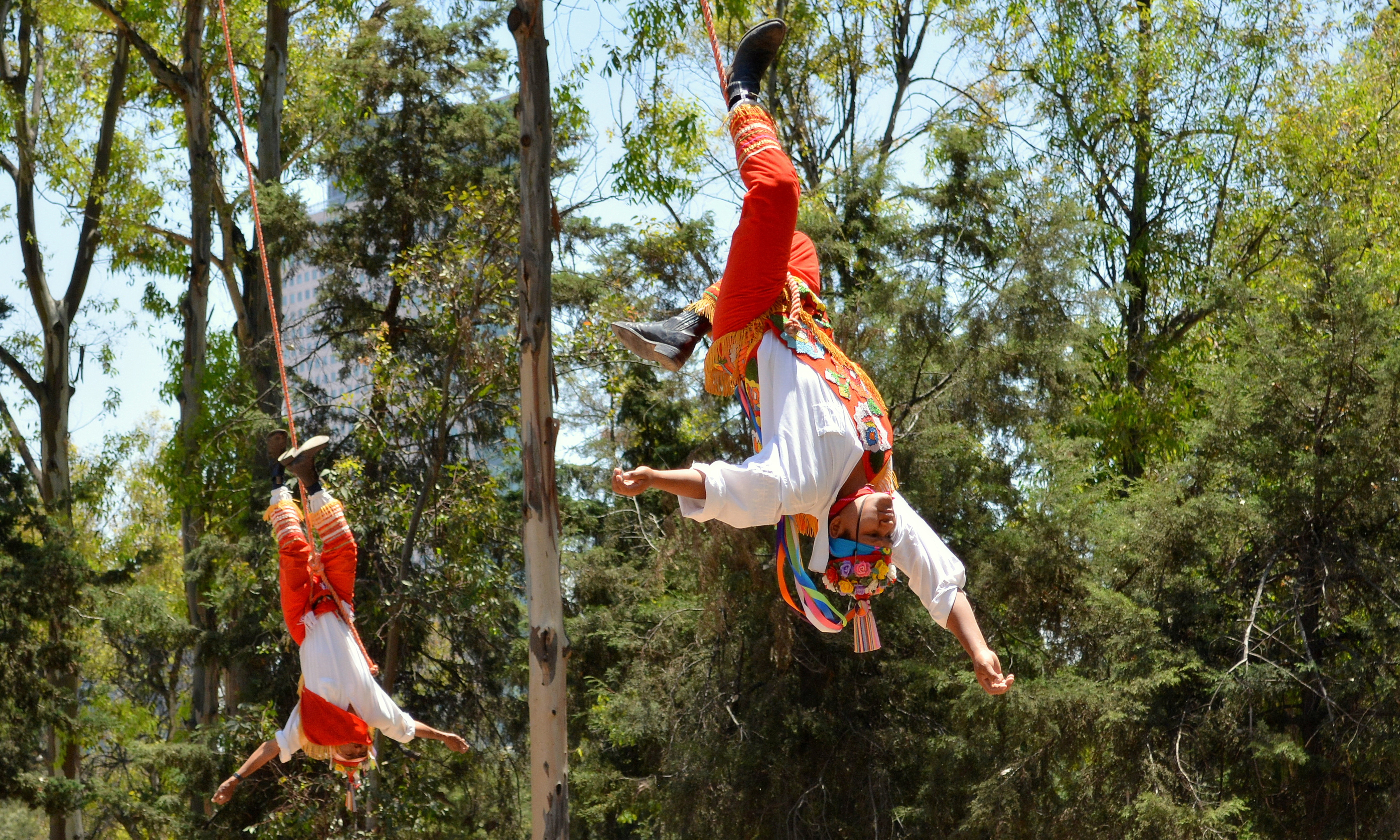 Danza de los Voladores - Northern Veracruz and Northern Puebla states 
Photo by Carl Campbell on Unsplash

Danza de la Pluma - Oaxaca region
Photo from: Ballet Folklorico de Mexico
---
We're Hiring! 
Our Operations Specialist position is now open. Click on our job description below for more information.
---
Thank you for taking the time to read our monthly newsletters. We hope you have a happy and safe June. -Team Corazón
Follow us on social media! 
Do you like this post?